Since our humble beginnings in 2003, The Porticus Centre has sought to make it's archives free for everyone who seeks the information available in our digital archives. We receive requests from organizations of all types; from large manufacturing firms, universities, legal firms, film studios, book publishers and authors for use or our unique and hard to find photos and images. We have never asked for any funds from anyone that requests our historical information, and only ask that those who request our historical information to abide by sending us proof of where the image and photos are being used, and to send us a complementary copy, which many do, and we thank you for that.
The Porticus Centre is a non-profit unit of Beatrice Technologies, Inc., and though we are part of Beatrice, we still have to sustain ourselves independent of the parent organization. We do receive some technical assistance in computer and phone systems, however we do have other areas that we are responsible for, which is shown in the chart below.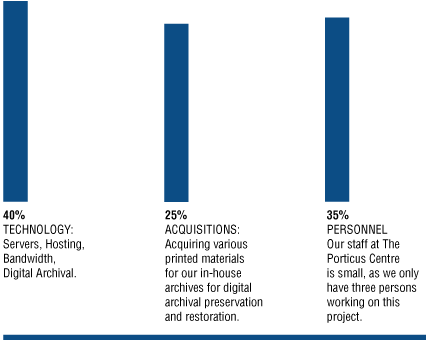 We ask that if you can assist us in our future endeavors in keeping this site relevant with more added materials, updated search indexing, and updated technology, please consider donating to The Porticus Centre. We normally would not ask, especially in today's economy, but we need to reach out to those who find our site fun and relevant to seek your assistance. Our site receives such a large volume of visitors monthly, and is used worldwide for all sorts of purposes; training, research, nostalgia, etc.
Where The Donations Go
Hosting, Server capacity, Bandwidth
Locating and acquiring historical documents to be restored and digitally archived
Compared to other sites of historical significance, we are small, and are reliant on our dedicated Porticus staff to assist in taking care of all the needs that our small organization requires
How to Donate
Click on the "Donate" button below and enter in the amount you feel is comfortable to you. Any amount is appreciated, and we thank you for what ever amount you give to support The Porticus Centre. We also would greatly appreciate any and all printed matter, film, video, or other physical materials to add to our archives, which we would then scan and digitize for our online web site for researchers and others to be able to freely have access to. This could be company newsletters, annual reports, product brochures, manuals, photos, etc.
$3
$5
$10
$20
$30
$50
$100
Other