Welcome to the corporate web site for Beatrice Companies, Inc., home to Quality, Innovation, Reliability, and Value since 1894.
"

a Reputation thru all the Nation

"TM
The Beatrice of 2020 is a new and tightly focused company that specializes in highly secure, and resilient communications networks.  From the best-in-industry structured cabling, to national security level mobile phones, Beatrice is gearing to serve our customers with integrity and new product ideas.

Originally founded as Haskell and Bosworth in 1894 by George Everett Haskell and William W. Bosworth in Beatrice, Nebraska, and later incorporated in Lincoln, Nebraska as …
Beatrice Companies, Inc. may look like a big company; however our operating and management philosophy is founded on the principles of respect and honor, and we feel that every product …
THE LEAST WE CAN DO IS VOTE!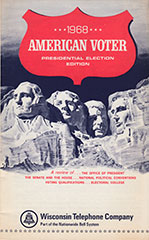 An interesting booklet reproduced by Wisconsin Telephone Company for the 1968 U.S. Federal election. This booklet details The Office of The President, The Senate and House, Electoral College, and that it is important for every legal, and qualified citizen to vote, and not ignore their solemn duty. Americans have fought and died so that legal citizens of our great nation can vote.
In no time in our history is it more imperative than now, that we as legal U.S. citizens vote for the candidates that will stand for Life, Liberty, Freedom, and the Rule of Law, and not lawlessness. In one election we could loose it all.


  Technology
Beatrice Technologies, Inc., with our secure product offering, we offer the Bittium Tough Mobile™ C, worlds most secure mobile communications solution for business customers, FirstNet, NGO's and journalists, coupled with the hosted Bittium Secure Suite with VPN. Through our Beatrice ProService, utilizing CommScope® and SYSTIMAX® structured cabling, we have experience in ensuring that your network has the proper distribution cabling, patch cords, and core components, which are Made in USA, NOT China [PRC]. The Porticus Centre, an online historical archives online and physical resource repository has proven to be a reliable source for research material by universities and businesses.


  Food & Distribution
Beatrice Foods Co. is the food research, and sales subsidiary of Beatrice Companies, Inc., and is the name that consumers worldwide have known in the past for unparalleled quality, convenience, and variety. We are dedicated to the distribution of high quality shelf stable, and frozen food products from ConAgra Brands for The Salvation Army, due to the effect of the COVID-19 pandemic.
As of March 2020, we no longer offer our own manufactured food products, and Beatrice Popcorn Co. merged with 2 Di 4 Gourmet, LLC., and the Tarasov Herbal Dressing & Sauce was discontinued.
Domain URLs
Beatrice Domains is offering for sale some of the most prolific domain URLs in the industry relating to COVID-19, Monkeypox and Crypto Currency. We have a large block in both categories that can be purchased in bulk for either category, or together, therefor cornering the market. Nowhere else will you find such a large collection that covers all aspects of your digital marketing plan.

Secure Online Orders
We offer secure ordering for our Bittium Tough Mobile devices, and SafeMove VPN that is verified through Authorize.Net™.