"

a Reputation thru all the Nation

"TM

In a quick changing world, Beatrice has enhanced our digital media assets to offer unique programming. From documentaries, historical, faith-based programming, news, and entertainment films, Beatrice is building upon its legacy of quality and innovation. The New Beatrice of 2024 and beyond ushers in a new beginning.

Originally founded as Haskell and Bosworth in 1894 by George Everett Haskell and William W. Bosworth in Beatrice, Nebraska, and later incorporated in Lincoln, Nebraska as …
Beatrice Companies, Inc. may look like a big company; however our operating and management philosophy is founded on the principles of respect and honor, and we feel that every product …
THE LEAST WE CAN DO IS VOTE!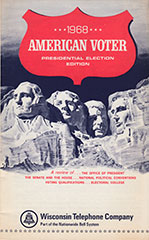 An interesting booklet reproduced by Wisconsin Telephone Company for the 1968 U.S. Federal election. This booklet details The Office of The President, The Senate and House, Electoral College, and that it is important for every legal, and qualified citizen to vote, and not ignore their solemn duty. Americans have fought and died so that legal citizens of our great nation can vote.
In no time in our history is it more imperative than now, that we as legal U.S. citizens vote for the candidates that will stand for Life, Liberty, Freedom, and the Rule of Law, and not lawlessness. In one election we could loose it all.

  Media
Through our dedicated Bview streaming platform, Beatrice Media distributes quality programming and content to a global audience. Our flagship broadcasting system, BNS utilizes Bview to distribute its content, as does Bfaith, for the various Christian churches that rely on uncensored video streaming of their services. Beatrice Media also is responsible for the Gene Hoopes literary works, which have a rich legecy dating back to the 1930's.


  Food & Distribution
Beatrice Foods Co. wholesale distribution subsidiary of Beatrice Companies, Inc.  We are dedicated to the distribution of high quality shelf stable, and frozen food products from ConAgra Brands for wholesale customers only, through dedicated customer warehouses.
Our official Beatrice Premier Foods, Inc. business unit produces Beatrice Olde Fashioned Recipe Sauce, and on a bulk order basis for retailers.  For Thanksgiving and Christmas holiday, we make our special Beatrice Old Fashioned Recipe Pumpkin Pie, on special pre-order only.